Skip to Content
blog
Top Tips to Plan the Best Scottsdale Getaway through Staytus
Top Tips to Plan the Best Scottsdale Getaway through Staytus
When a resort property is 65 acres and has as many unique offerings and events as the Fairmont Scottsdale Princess does, how do guests stay in the know about what not to miss during their stay? The answer is simple — Fairmont Staytus.

The signature app allows every user to look at the property from a bird's eye view and stay informed in real time, all from your mobile device. Let's take a look at the entire digital experience — from the moment you book your reservation to planning your next vacation with us.
What Is Staytus?

Included in your confirmation email, you'll find a prompt to download Staytus. Optimized for all smart phone users, we recommend downloading Staytus prior to your arrival to help plan your luxury escape. While not a mandatory step, this does allow you first access to book all of your spa, dining and golf reservations well in advance to ensure you lock in your preferred times.
Pro Tip: Fairmont Scottsdale Princess is always a buzz with activity and prime time slots go fast, so get booking! Even if you don't book before your stay, Staytus ensures you don't have to pick-up the phone for reservations as well, meaning you'll bypass phone trees and hold messages creating a seamless and instantaneous experience that removes wait-times. Get back to enjoying your vacation!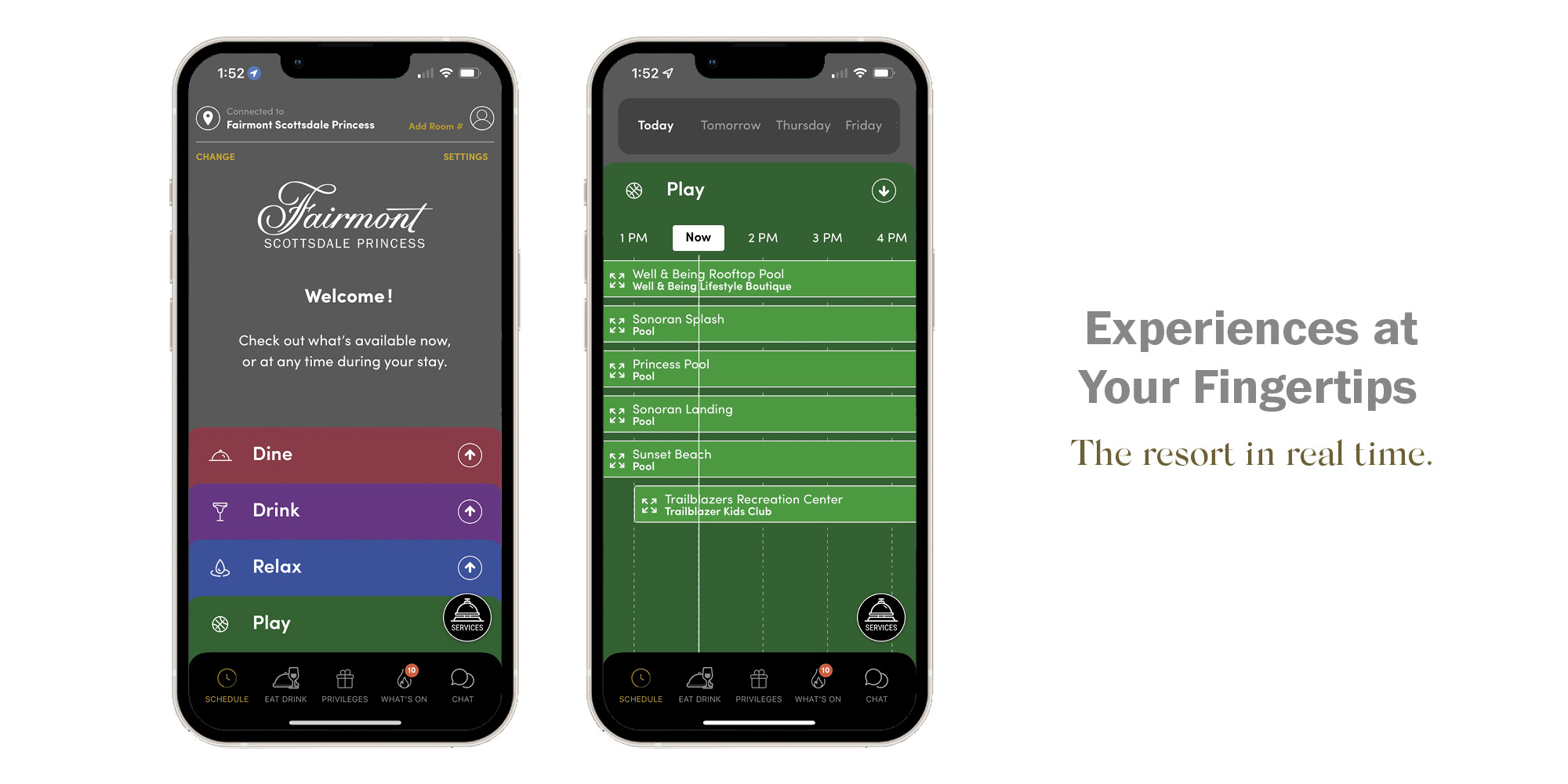 How To Make The Best Of Your Scottsdale Vacation Through The App

When logging onto the app for the first time, sync with our property by searching for Fairmont Scottsdale Princess and inputting the duration of your vacation, or by selecting "I Live Here" if you're a local resident — meaning, no, you don't have to be a hotel guest to use the app and can stay up-to-date with your favorite hotel in the valley. The user-friendly interface greets you by landing on the SCHEDULE tab and greeting you by name. Each of the colored bars found on the page expand and showcase the hours of operation for all five delectable on-property dining concepts and bars, each of the six sparkling pools, four shopping outposts and all seasonal activities. If you're a planner, this is the screen for you!
Create A True Foodie Experience

To find more in-depth information about each outlet, let's explore the EAT DRINK tab. Aptly named, this page is the perfect visual representation of all the foodie experiences on property. Each outlet garners a carousel of pictures that perfectly encapsulate its cuisine and atmosphere, tantalizing you to dissect each one. A further probe into each restaurant reveals mobile booking from the app, as well as each and every menu offered at each location on property.
Dietary restrictions or picky eaters traveling with you? Utilize this function plan around any dietary obstacles you may face to make your dining experience more seamless!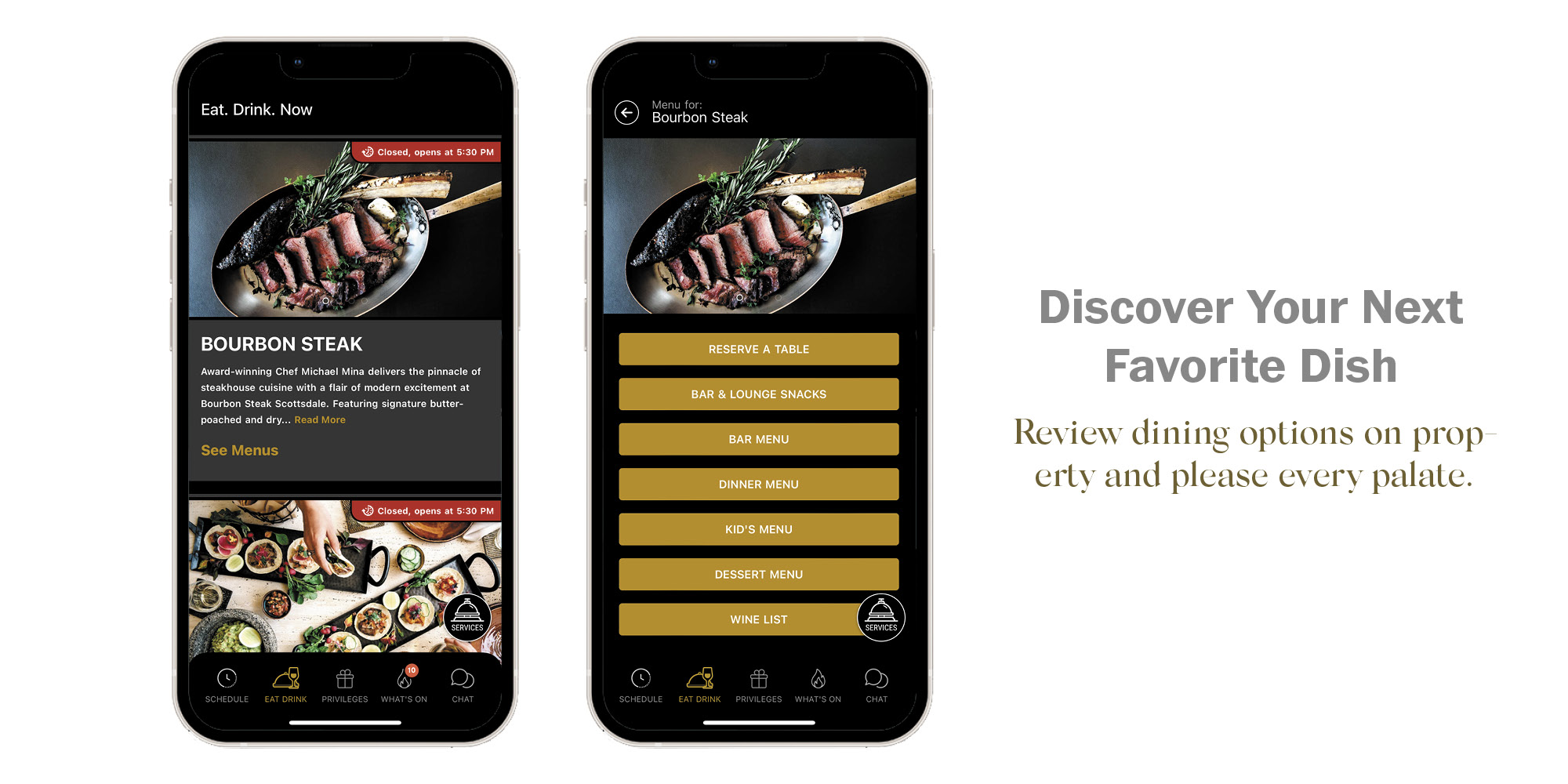 For those who are serial brunch-goes, like those who book our Bed & Breakfast package, your daily breakfast vouchers will appear exclusively in the PRIVILEGES tab. Each day, a new voucher will arrive in Staytus that can be redeemed at either Toro or Ironwood American Kitchen. PRIVILEGES is also the place for ALL Loyalty guests who are silver, gold, platinum or diamond members to find their complimentary welcome drink voucher for use at Plaza Bar. Start earning points by creating a free account today! This easy, sustainable and paperless solution means no one has to carry physical vouchers that have a mysterious knack for getting forgotten or misplaced.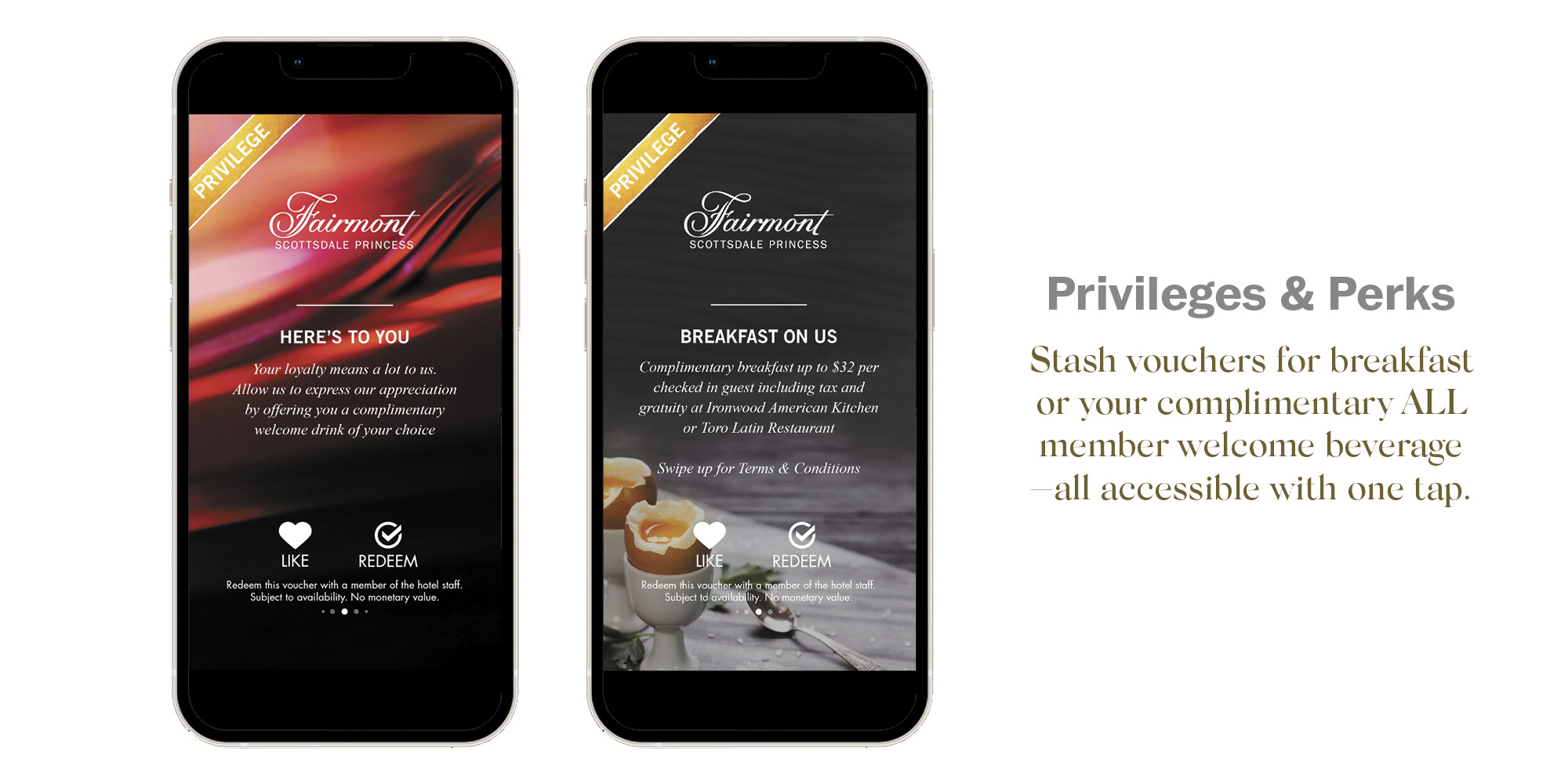 Find Resort Activities

Want to know what's happening at the property in real time? Sign up for push notifications to know about everything Fairmont and check out WHAT'S ON. Think of this tab like a highlight reel, showcasing our favorite adventures across property. This carousel scrolls through visuals that link out to our website for further exploration. We not only choose to show current on-goings at the resort but future specials and events we'd love to invite you back for as well.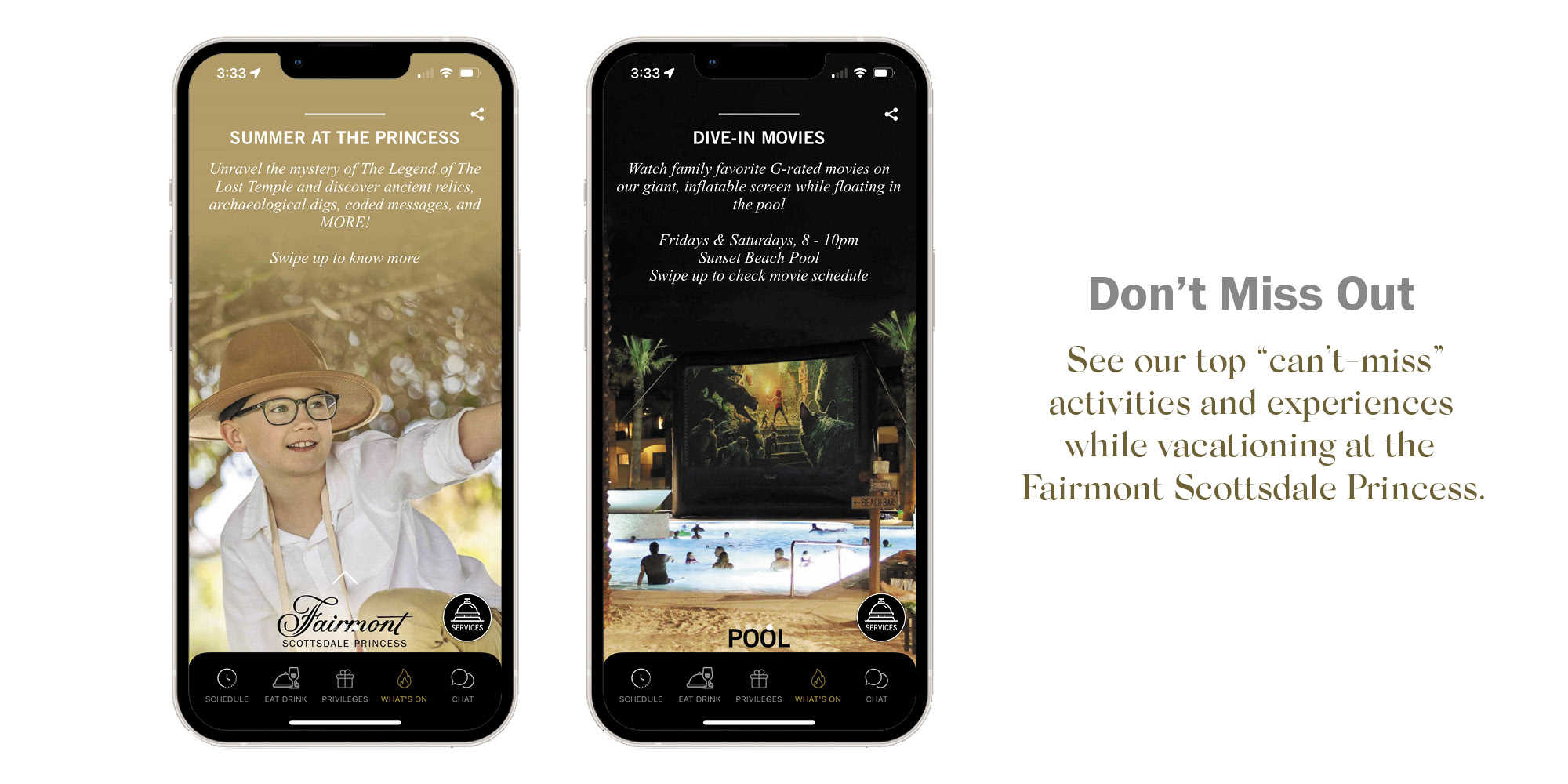 Make Staytus Your Best Travel Companion

While the SERVICES button might seem covert at first glance, it expands into one of the best resources in the app. It includes the direct links to all high–interest points you may be looking for. A map of the property? Check. Links to book all reservations? We've got you covered. How to become an ALL member to get that complimentary welcome drink (and other excellent perks), read our blog, or find suggestions for authentically local experiences? Look no further. However, if you happen have any questions Staytus can't answer or you need help at any point during your stay, utilize SERVICES for one-tap calling to our hotel or opt to CHAT with one of our staff in real time, 24/7, directly from the app.
Whether this is your first, 500th stay, or you're a local resident, Staytus is the ultimate tool to help you create memorable moments that last a lifetime. We look forward to hosting you for your luxury desert getaway that becomes an adventure worth repeating.
Staytus helps you organize your vacation, from seeing all property activities, to booking any reservations or tee times, and chatting with property staff in real-time to assist with issues. Staytus is for Arizona local residents and travelers alike, offering push notifications for you to stay up to day with all things Fairmont at your favorite luxury escape destination.
Use SCHEDULE to see property happenings and activities
EAT DRINK walks you through all dining outlets on property and includes menus, pictures, and reservation booking links
PRIVEILEGES holds your ALL welcome drink voucher and any breakfast vouchers you may have.
WHAT'S ON showcases our "don't miss" features of the resort
CHAT connects you with a service agent 24/7
SERVICES offers a property map, one-touch reservation booking links, ALL membership registration, the Fairmont Scottsdale Princess Blog, resources for local experiences, and a tap-to-call button to connect you to guest services.