Skip to Content
Give Your Event An Upgrade
In-House Event Planning
Give Your Event An Upgrade
Fully owned and operated by the Fairmont Scottsdale Princess resort, Studio F Designs offers a true one-stop shop for Destination Consultation, Event Design and Fabrication Services for corporate meetings and wedding planners. 
Whether it is event design and décor, custom fabrication, recreational tours, entertainment, branding or airport transportation; our in-house professionals will craft every aspect of your program using a creative lens. Through unique and memorable event programming, we bring your vision to life from start to finish and deliver the results you desire. Studio F Designs provides the expertise to elevate your program at a world-class corporate event resort.
Your Event Management Partner
An event is a tool you use to engage, inspire and communicate to your guests. A successful event just takes a spark – you get an idea and we'll help you achieve your vision. We become an extension of your team and carefully craft the elements to form an exceptional event. It's all in the details. Remove the stress from the planning process, and let us plan and manage everything from fabrication to transportation, tours, activities, offsite events and more. We use the latest tools and technological innovations to create, shape and execute a first-class event and attendee experience.
Custom Fabrication
Our in-house fabrication team will deliver custom designs and fabrications that will create a memorable event. Utilizing the newest technologies, our studio has the capacity to create unique and distinctive elements to your event.
Event Design
Our exceptional creativity and passion for events make Studio F Designs the right choice for a truly immersive event. Our team of in-house Designers and Fabricators can bring any vision to life. Studio F Designs implement themes, colors, textures, sounds, sights, and tastes to design truly unforgettable experiences and memorable events.
Transportation
Whether it's a sleek sedan or a luxury motor coach, our specially trained associates are ready to seamlessly bring you and your group all around Arizona.
Fairmont Signature Series
Meetings don't have to be all business. When your agenda is restricted to on-property meetings and activities, turn to the Adventure & Experiences' Fairmont Signature Series. These are exciting one-of-a-kind on-site group programs that cannot be found anywhere else. Or, we can custom design a program/activity that fit the interests of your group.
Spa & Fitness Activities
Our breathtaking spa, wellness facility, and resort grounds are an ideal venue to break a sweat or slip into some well-deserved relaxation.
Tours & Recreational Activities
We're all about fun…but we also believe in fun with a purpose. Arizona offers a multitude of options to choose from, so we make sure every component of the tour aligns with your goals—from transportation, exclusive access, expert tour guides, and inspired itineraries to thoughtful food and beverage, seasonal dependencies, and more.
Golf Events & Tournament Services
Try your hand at friendly, informal competition or keep score and win big, as we coordinate it all from transportation and food and beverage to scoring, awards and more.
Off-Site Dine-Arounds
With so many spectacular choices around the Valley of the Sun, let us take the guesswork out of choosing a setting by curating an itinerary that'll fit your budget, complement your agenda, and please your guests' palates.
Off-Site Venue Selection & Design
Tapping into our long-lasting local relationships, we can help find the perfect venue to help you host your unique event, as well as negotiate the cost and contract terms and ensure a seamless planning process.
Team Building
Learn more about your colleagues through problem solving, team building, and communication exercises that place an emphasis on fun and versatility.
Branding
Show off a special touch as you impress attendees by branding elements large and small at the event. Imagine large wall prints in the conference center, custom key cards when they check in, welcome cards in their room amenity and more!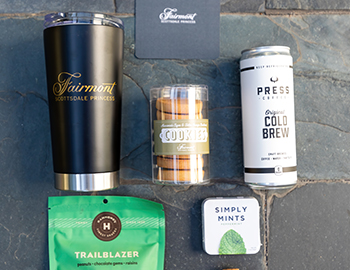 Group Gift
Welcome participants to the event with a custom curated gift in their room upon arrival or engage in a live gifting station where they get the pick out the perfect item!
Business & Professional Staffing
In addition to your Event Manager, we also offer a full-time team to guarantee your program goes off without a hitch – whether you need a hand with arrivals and departures, restaurant dispatches and returns, hospitality desks, and more.