Skip to Content
Bryte Bed Sleep Experience
Revitalize Your Rhythms
An Arizona Original
Inspired by the belief that sleep is a balm for the soul, one which carries the potential to revitalize our rhythms and restore a sense of peace, we've outfitted our Fairmont Gold accommodations with the new standard in perfect slumber—the Restorative Sleep Experience by Bryte.
Cloud-Like Comfort
Your Fairmont Gold King Junior Suite is one of only a handful in the world to feature a Bryte Restorative Bed™. From the first night, you will fall asleep faster, sleep longer and more soundly, and wake naturally feeling refreshed and restored. Over subsequent nights, the Restorative Bed continues to finetune settings, like temperature and firmness, tailoring them to maximize sleep quality, including body-restorative deep sleep and mind-restorative REM sleep. You can also create a portable profile, which saves your preferences for future stays. And if you enjoy the experience so much that you'd like to bring it home, we'll even offer a special discount, as well as exclusive perks, including free shipping, delivery, and white-glove installation.
A Curated Spa Menu
Developed in collaboration with Well & Being Spa, we've curated an assortment of services and experiences to further enhance your sleep journey. As a Fairmont Gold guest, you'll also receive complimentary access to this space for any and all self-guided exploration.
Aromatherapy Sleep Massage
60 | 90 minutes
Let your stress melt away while you receive a light-pressured massage that features a soothing blend of essential oils masterly crafted to promote total relaxation and encourage a good night's rest. We suggest the Unwind Oil Blend for relaxing and the Dream Oil Blend for sleeping.
Himalayan Stone Massage
60 | 90 minutes
This restorative massage uses warm salt stones to soothe sore muscles and naturally replenish the body with vital minerals, restoring balance to your mind and body.
Acupuncture
60 | 90 minutes
Our licensed acupuncturists use a series of fine needles to restore balance and elevate the spirit. Acupuncture relieves pain, enhances sleep, alleviates anxiety and stress, and treats acute and chronic muscular and degenerative conditions. 30-minute, follow-up appointments are available upon the completion of any 60- or 90-minute treatment.
Sleep Bath
30 minutes
Formulated with pure botanicals and mineral-rich salts, as well as sage and lavender essential oils, this treatment eases stress and anxiety, while soothing the soul, repairing damaged skin, and promoting sound sleep.
Singing Bowl Therapy
60 minutes
This ancient sound healing and massage practice harnesses the body's own vibrational and material properties on a cellular level. The effects of the vibration will activate the chakras and remove energy blocks to promote a sense of relaxation.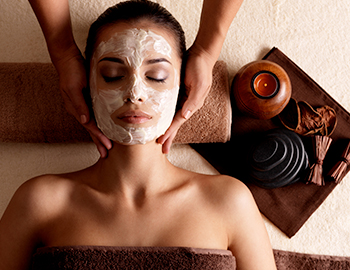 Magnesium Massage
60 | 90 minutes
This healing treatment works to promote detoxification and restore commonly deficient magnesium levels in the body using heat-driven muscle repair methods via infused hot towels, in addition to a full-body, therapeutic massage.